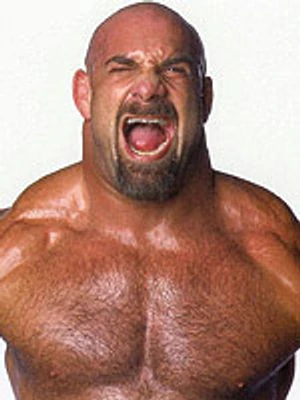 : ประวัติย่อ :: William Scott (Bill) Goldberg is a Jewish American professional wrestler and retired American football player.
Goldberg is best known for his appearances with World Championship Wrestling between September 1997 and January 2001 and with World Wrestling Entertainment between March 2003 and March 2004. In addition to his sporting pursuits, he is also an actor.
American football career
Goldberg attended the University of Georgia from 1986 to 1989, earning a degree in psychology. While at university, Goldberg played college football as a nose tackle for the Georgia Bulldogs, and was named an All-America.
After graduating, Goldberg decided to become a professional American football player, and was drafted by the Los Angeles Rams in the eleventh round of the 1990 NFL Draft. In addition to playing in the National Football League, he competed in the World League of American Football, winning the World Bowl as a nose guard for the Sacramento Surge. He signed with the Atlanta Falcons as a defensive lineman in 1991 and played for them until 1994, when he suffered a torn abdominal muscle. He attended the first Carolina Panthers training camp in 1995 and was given a contract, but became the first player cut by the Panthers in team history after failing to fully recover from his abdominal injury. He later successfully sued the Panthers for misdiagnosing his abdominal injury and for loss of earnings. With his football career cut short, Goldberg worked as a personal trainer considering his future career options.
Professional wrestling career
World Championship Wrestling
Goldberg had met several employees of the World Championship Wrestling professional wrestling promotion while living in Atlanta, Georgia, and decided to pursue a career in wrestling after meeting WCW employees Sting and Lex Luger in a gym. He was quickly signed to a contract by WCW and sent to the WCW Power Plant, a professional wrestling school owned by WCW and operated by former wrestlers such as Dwayne Bruce.
After training in the Power Plant for several months, Goldberg debuted on June 24, 1997, defeating Buddy Landell in a dark match under the ring name Bil Gold. He made his first appearance on WCW television on the September 22, 1997 episode of WCW Monday Nitro, defeating Hugh Morrus as Goldberg. This match marked the first victory of Goldberg's "streak" - a series of 173 consecutive victories that took place on WCW television, pay-per-views and at house shows.
With his bald head, goatee and utilitarian black trunks, Goldberg was often compared to Stone Cold Steve Austin, a prominent wrestler in the rival World Wrestling Federation. However, WCW President Eric Bischoff later claimed that the character of Goldberg was based not on Austin but on Ken Shamrock, a WWF employee and mixed martial artist. Goldberg also became known for his entrances, which saw him walk from his locker room to the stage with a police escort, then proceed to the ring while through pyrotechnics exploded around him.
Goldberg's succession of wins saw him quickly advance up the card, and he won the WCW United States Heavyweight Championship on April 20, 1998, defeating Raven. He vacated the title after winning the WCW World Heavyweight Championship from Hollywood Hogan on July 6, 1998. His reign lasted until December 27, 1998, when he suffered his first defeat, losing to Kevin Nash at StarrCade 1998 after Scott Hall interfered, electrocuting him with a taser. At the same time, the WWF began lampooning Goldberg with the character Gillberg, a perennial jobber who dressed similarly to Goldberg and mocked his signature entrance and mannerisms.
Goldberg became a two-time United States Heavyweight Champion on October 24, 1999 at Halloween Havoc, defeating Sid Vicious. Later that evening, he answered an open challenge from WCW World Heavyweight Champion Sting, defeating Sting within minutes of the opening bell. However, on the following episode of WCW Monday Nitro, commissioner J.J. Dillon ruled that the match had not been sanctioned by WCW and that, therefore, Goldberg's victory was void. Goldberg lost a second title that same evening when Bret Hart defeated him for the United States Heavyweight Championship. Shortly thereafter, Goldberg joined forces with Hart, teaming with him to defeat Creative Control for the WCW World Tag Team Championship on December 7, 1999. One week later, they lost the titles to The Outsiders.
At StarrCade 1999 on December 19, 1999, Goldberg challenged Hart for the WCW World Heavyweight Championship. In the course of the match, which was won by Hart, Goldberg delivered a stiff kick to Hart's head, legitimately concussing him and tearing a muscle in his neck. This injury, combined with the various injuries Hart had suffered in the course of his lengthy career and the additional blows to the head he absorbed before being diagnosed with post-concussion syndrome, forced Hart into retirement several weeks later.
Throughout 2000, Goldberg feuded with members of the nWo and the Millionaires Club. In October 2000 he began a new undefeated streak, with Vince Russo threatening to "fire" him if he lost. The streak was broken after thirty five straight victories on January 14, 2001 at WCW Sin when Goldberg, teaming with his trainer, Dwayne Bruce, lost to Totally Buff in a tag team match after a fan maced him, enabling Totally Buff to pin him. The angle was intended to enable Goldberg to have shoulder surgery, but WCW was sold to the WWF in March 2001, with Goldberg still recuperating. The WWF did not buy out Goldberg's contract with Time Warner, the parent company of WCW, and so he was not involved in the WWF "invasion" angle. Goldberg instead remained under contract to Time Warner until May 2002, when he agreed on a contract buyout. Goldberg had suffered an arm injury during a celebrity car racing event in April 2002, but in August 2002, he returned to the ring in Japan.
Goldberg initially joined All Japan Pro Wrestling, defeating Satoshi Kojima on August 30, 2002. He went on to defeat Rick Steiner in Yokohama in a match for the W-1 promotion, and teamed with Keiji Mutoh to defeat KroniK in Tokyo. His success in Japan led to the World Wrestling Federation - now renamed World Wrestling Entertainment - beginning contract negotations with him.
In the course of his WCW career, Goldberg suffered only six official singles defeats, three of them to Bret Hart.
Goldberg visiting the USS Ronald ReaganGoldberg was signed to a one year contract by World Wrestling Entertainment in March 2003. He debuted in WWE on the March 31, 2003 episode of RAW, the night after WrestleMania XIX, and immediately began a feud with The Rock by spearing him. His feud with The Rock culminated in a match at Backlash 2003, which was won by Goldberg. His first match on RAW saw him defeat Three Minute Warning in a handicap match.
Goldberg went undefeated over the subsequent half-year, feuding with Christian and Chris Jericho. He first challenged for the World Heavyweight Championship on August 24, 2003 at SummerSlam 2003 in the second Elimination Chamber match, but was pinned by the defending champion, Triple H, thus ending his undefeated streak. On September 21, 2003 he defeated Triple H for the World Heavyweight Championship at Unforgiven 2003. He successfully retained the title in a match with Triple H at the 2003 Survivor Series on November 16, 2003, but lost the title to Triple H at Armageddon 2003 on December 14, 2003 when Triple H pinned him in a triple threat match which also included Kane.
Goldberg rentered the 2004 Royal Rumble in an attempt to regain the World Heavyweight Championship, but was eliminated after Brock Lesnar entered the ring and hit Goldberg with the F-5, enabling Kurt Angle to eliminate him. Goldberg gained revenge by attending No Way Out 2004 the following month and costing Lesnar his WWE Championship by interfering in a match between Lesnar and the challenger to the title, Eddie Guerrero. This led to a match between the two being scheduled for WrestleMania XX. Goldberg was not seen on WWE television for several weeks before the event, as he had already worked the maximum number of dates (bar one, his WrestleMania appearance) stipulated by his contract and would have had to have been paid a supplementary salary in order to make extra appearances. This may have hurt the build to the WrestleMania match, with the last episode of SmackDown! before WrestleMania featuring a confrontation between Lesnar and Stone Cold Steve Austin, the guest referee of the match, not Lesnar and Goldberg.
At WrestleMania, Goldberg defeated Lesnar, with both men receiving a Stone Cold Stunner from Austin after the match. Lesnar and Goldberg had both gone undefeated for long periods of time, leading many fans to label a match between the two a "dream match". However, as both Lesnar and Goldberg were known to be leaving the company immediately after WrestleMania, the match was poorly received by the audience, who soundly booed both competitors. On March 31, 2004, Goldberg's contract expired and, following a short period of negotiations, was not renewed.
Since leaving WWE, Goldberg has primarily focused on his acting career. He has commented on his year with WWE in a highly critical fashion, arguing that his character was poorly utilised. In February 2006, several media outlets reported that Goldberg was in negotiations with the professional wrestling promotion Total Nonstop Action Wrestling; possibly in response to these rumors, semi-retired wrestler Warrior commented on his website that he would be interested in wrestling Goldberg in TNA should TNA approach him with such an offer.
Acting career Goldberg was the first-ever guest on the "Pain Clinic", a professional wrestling radio talk show based in Rochester, New York that debuted on November 14, 1998. He made several more appearances on the show, with his final appearance taking place on November 19, 2005.
Goldberg began acting while working for WCW in 1999. His appearance in Universal Soldier: The Return corresponded with him being featured in the music video for the Megadeth song "Crush 'Em," which was featured on the film's soundtrack. He went on to temporarily use "Crush 'Em" as his entrance music.
In 2003, Goldberg appeared on Punk'd, with Ashton Kutcher instructing a stunt performer to run over a replica of Goldberg's motorcycle with a truck while he watched. However, the prank went awry when the stunt performer missed the bike.
In June 2005, Goldberg began hosting a television program on The History Channel called Automaniac. He described the series as "a thirty minute show with thirteen episodes, talking about the history of automobiles and motorcycles, and what's their historical perspective." The series was cancelled in August 2005 after eleven episodes.

ประวัติเรียงตาม :: - ผลงานแสดง
--------------------------------------------------------------------------------
ผลงานแสดงที่ผ่านมา

Santa's Slay(2006) ...ซานตาคลอส

Universal Soldier: The Return(1999) ...โรมิโอ