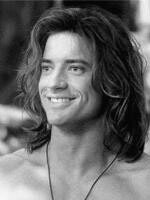 วันเกิด : 1968-12-03
ที่เกิด : อินเดียน่าโพลิส,อินเดียน่า
เมืองที่เกิด : United States
ส่วนสูง : 191

:: ประวัติย่อ :: Education Actors Conservatory, Cornish College of the Arts, Seattle, Washington, theater, BFA
Upper Canada College Preparatory School, Toronto, Ontario, Canada
This handsome, heavy-lidded leading man first made an impression with back-to-back leads in two 1992 features; as the transformed prehistoric titular "Encino Man" and as a brooding preppie who meets with anti-Semitism at boarding school. Both roles set the tenor for much of his future work wherein he was often cast as the outsider.
Born in Indiana but raised in Europe and Canada, Brendan Fraser interned at Seattle's Intiman Theatre after college. He landed a one-line part in "Dogfight" (1991) and headed to L.A. to pursue a career. After winning raves for his co-starring turn as Martin Sheen's son in the telefilm "Guilty Until Proven Innocent" (NBC, 1991), Fraser was hand-picked by Sherry Lansing for the lead in "School Ties". For various reasons, though, film audiences first saw him as Link, the thawed Cro-Magnon-turned-Valley guy, in "Encino Man". He went on to a varied but steady career that included indies (i.e., "Twenty Bucks" 1993), comedies ("Airheads" 1994 and "The Scout" 1995) and several uncredited cameo appearances (notably the Pauley Shore vehicles "Son in Law" 1993 and "In the Army Now" 1994 and "Now and Then" 1995). Fraser proved his dramatic mettle with a strong turn as a backwoodsman who goes mad from unrequited love in "The Passion of Darkly Noon" (1995). 1997, however, proved to be the actor's year. He made a sweet and very human incarnation of the cartoon character in the Disney blockbuster "George of the Jungle". Fraser also shone in an award-winning portrayal of a street performer who falls for a grifter in "Still Breathing" and played a gay man whose sister discovers her unborn child may grow up to be homosexual in the uneven "Twilight of the Golds" (shown on Showtime before receiving a theatrical release).
The busy actor continued his winning streak, first landing the role of a gardener befriended by film director James Whale (Ian McKellen) in "Gods and Monsters" (1998). Much of the film's success depended on the chemistry between the two actors and critics tended to focus more on McKellen's achievement overlooking Fraser's sterling work. Often cast as fish-out-of-water characters, he excelled as a 35-year old who was raised in a bomb shelter only to emerge in the late 90s to discover the world in "Blast From the Past" (1999). Again exhibiting a sweetness and gentleness that have become his hallmark, Fraser proved a perfect foil as a modern-day Adam to Alicia Silverstone's more knowing Eve. The actor appeared in his most commerically successful role yet when he starred as Rick O'Connell, a dashing, heroic Indiana Jones-like figure who discovers an Egyptian tomb unleashing "The Mummy" (1999) in Universal's update of its enduring property by writer-director Stephen Sommers; Fraser also returned for the 2001 "The Mummy Returns" (2001). And following his "George of the Jungle" triumph, he appeared as another Jay Ward cartoon character (and in an homage to his forbearers) as the live-action embodiment of the square-jawed Royal Canadian Mountie "Dudley Do-Right" (1999), which was not as successful commercially or creatively. But the actor demonstrated his affinity for outrageous, cartoonish comedy and antics again and yet again when appeared in director Harold Ramis' remake of the 1967 British comedy "Bedazzled" (2000)--with Fraser playing a dweeb who's granted seven wishes by a hellaciously tempting Satan (Elizabeth Hurley) to snag the girl of his dreams--and in "Monkeybone" (2001) as a comatose cartoonist trapped in the wild world of his underground comic book creation and must vie with his own mischeivous alter ego, the cartoon simian Monkeybone.
Fraser returned to kind of dramatic fare that had earlier revealed his acting depths in 2001, when he starred as Brick in the well-received London stage production of "Cat on Hot Tin Roof" opposite Ned Beatty and his "Bedazzled" co-star Frances O'Connor, and again on screen when he co-starred with Michael Caine in the 1950s-era drama based on the novel by Graham Greene, "The Quiet American" (2002). Working from a tale set against the fall of French Colonial Vietnam, director Phillip Noyce crafted an involving mix of espionage and complex emotion, casting Fraser as the seemingly idealistic American aid worker Alden Pyle, who becomes entangled in a love triangle between a cynical British journalist (Caine) and his young Vietnamese mistress Phuong (Hai Yen). Ably playing a character who is not exactly what he seems to be, Fraser held his own in his scenes with the always-magnetic Caine and reminded audiences of his range beyond FX-features. However, old loves die hard, and Fraser lept headfirst into another cartoon-centric role when he took on the part of security guard DJ Drake, the human leading man opposite Bugs Bunny, Daffy Duck, Elmer Fudd and the rest of the Warner Brothers stable of characters in "Looney Tunes: Back In Action" (2003). While the film had energy aplenty and Fraser--who also provided the voice of the Tasmanian Devil--was an old pro when it came to working alongside animated co-stars, it lacked the uproarious humor and subversive edge of the old cartoons that inspired it. Returning to more serious fare, the actor next joined the A-list acting ensemble of the racially charged, multi-plot drama "Crash" (2005) for a brief turn as a high-powered Los Angeles District Attorney whose carjacking by a pair of black men looms as a political and very personal liability.
In addition to acting, Fraser demonstarted a talent behind the camera as well when he put on his first gallery showing of his photographs--largely taken on the sets of many of his films--in Los Angeles in 2003.

ประวัติเรียงตาม :: - ผลงานแสดง
--------------------------------------------------------------------------------
ผลงานแสดงที่ผ่านมา

Still Breathing(2003) ...เฟลทเชอร์

The Mummy(1999) ...ริค โอคอนเนลล์

Blast from the Past(1999) ...อดัม