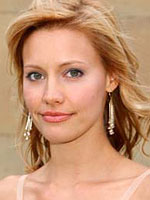 วันเกิด : 1977-12-14
ที่เกิด : จอร์เจีย
เมืองที่เกิด : United States
ส่วนสูง : 165

:: ประวัติย่อ :: Katherine Dee "KaDee" Strickland is an American actress. After displaying interest in acting at a young age, Strickland now works predominantly in supporting parts in motion pictures, among them The Grudge (2004) and Fever Pitch (2005). Her experience in leading roles, however, has been limited. Strickland has been acknowledged as one of Hollywood's rising stars by some media sources, and she has cited Jessica Lange,[1] Holly Hunter,[1] Diane Keaton[2] and Jane Fonda[3] as her influences.
Strickland was born in Blackshear, Georgia, and is the third and youngest child of Susan Strickland, a nurse and nursing instructor, and Dee Strickland, a former high school football coach and superintendent. She was raised in Patterson, Georgia and had a job picking tobacco on a local farm for eight years. As a child, Strickland watched the Woody Allen film Annie Hall (1977), and recalled "wanting to be in that place, and being completely taken with the energy of those people. I wanted to be in it".[2] However, a career in the performing arts had never been seriously considered by Strickland until her participation in a one-act play performed by students of her high school: "... the minute I set foot on stage, that was it. Destiny took over. There were no other options. I felt like I fit my skin, I knew what I was here to do",[2] Strickland said.
After graduating from high school, Strickland successfully applied to the University of the Arts in Philadelphia. During her studies there, she took a part-time job as a waitress at a local restaurant. She also interned at a casting agency, and one of the tasks she was given was to read the lines at auditions for people looking for small roles in film and television projects in the area (a job that would land Strickland her first film role). After graduating from university with a Fine Arts degree, she was schooled in New York City for a time under the tutelage of Maggie Flanagan, an acting teacher who would instruct her students to watch films with the sound turned off to gauge the quality and comprehensibility of a performance.[4] In late 2003 Strickland moved to Los Angeles, California, where she currently resides as of 2005.
Strickland's career began with a brief appearance as a ghost in The Sixth Sense in 1999, a two-line part that she had received after impressing writer and director M. Night Shyamalan whilst reading lines for those auditioning for the film. Of Shyamalan, Strickland said: "He is a lovely man, and one of the most focused I've been around... I still can't get over how tightly he ran his ship".[5] That same year, she served as an extra in the unreleased independent film The Sterling Chase. Strickland was also cast in a slightly larger role opposite Winona Ryder and Angelina Jolie in James Mangold's drama Girl, Interrupted.
While staying in Philadelphia, Strickland was given various opportunities to take part in a number of other films in production in and around the city. Those included Rel Dowdell's Train Ride, a date rape thriller filmed in 1998 but not commercially released until 2005 due to financing problems. She also appeared in the crime drama Diamond Men with Robert Forster and Donnie Wahlberg. It opened to sparkling reviews, with Richard Roeper of the Chicago Sun-Times declaring it "a fantastic film, with a good cast".[6] Some time after moving to New York City, Strickland was cast in Adam Bhala Lough's filmmaking debut Bomb the System, which received unenthusiastic notices from critics and was not shown outside of film festivals until 2005.
Strickland acquired stage experience in theatre productions such as A Requiem for Things Past in the summer of 1999, and John Patrick Shanley's Women of Manhattan. She also acted in an episode of the television show Law & Order: Criminal Intent in December 2002 and made nine guest appearances on All My Children. In 2003, Strickland was cast opposite Eddie Cibrian in the pilot episode for a proposed small screen serial adaptation of John Grisham's novel The Street Lawyer that was never commissioned.
With Christina Ricci in Anything Else (2003). Strickland later referred to the film as her "big break".Strickland appeared in two romantic comedy films in 2003. Anything Else was written and directed by Woody Allen, and featured Strickland as the girlfriend of Jason Biggs (whom he snubs for Christina Ricci); the film was greeted with lukewarm reviews and dismal ticket sales. (Strickland nevertheless referred to the film as her "big break" in a 2005 interview.[7]) The second, Something's Gotta Give (starring Jack Nicholson and Diane Keaton), was a major critical and commercial success, although Strickland's part in the film was brief. She played the notably young love interest of the Diane Keaton character's ex-husband (played by Paul Michael Glaser), a relationship that raised the eyebrows of both Keaton and her daughter (Amanda Peet). The following year she appeared briefly in the direct-to-cable independent film Knots as a partygoer, and as a game show contestant in the poorly-received satirical comedy The Stepford Wives with Nicole Kidman.
Strickland's first lead role came when producer Doug Belgrad saw the dailies of her scene from Something's Gotta Give. Impressed by her work, he cast the actress opposite Johnny Messner and Morris Chestnut in the jungle-set horror film Anacondas: The Hunt for the Blood Orchid, the sequel to Anaconda (1997). Strickland played an accomplished research scientist who travels to Borneo as part of an expedition team searching for a species of plant that is rumoured to have life-extending properties. Though a financial success, Anacondas did not perform as well as its predecessor, and most reviews panned the production. Bill Clark, who called the film's cast "awful", wrote that Strickland "has officially dethroned Nicolas Cage in Con Air as the worst southern accent ever captured on film",[8] and Dustin Rowles said Strickland's "off-and-on southern accent is the equal of James Van Der Beek's turn in Varsity Blues on the unintentional comedy scale".[9] (Strickland is from the Southern United States.) Of Strickland and her co-star Salli Richardson, Thomas Chau commented "both actresses bring a wit and sexuality to their characters which make them likable girls",[10] while Julian Roman observed that Strickland "certainly has the charisma to be a movie star".[11] A critic for the San Diego Union-Tribune was less charitable, describing her and her co-stars' work as "garden-variety bad".[12]
Strickland is also an advocate of the arts. Prior to the release of Anacondas, she hosted the art debut of fellow actress Heidi Jayne Netzley at the Edgemar Center for the Arts in Santa Monica, California.[13]
Jane Fonda's performance in Klute (1971) provided the inspiration for Strickland's role (pictured) in The Grudge (2004): "Fonda had this brilliant way in that film of creating tension and fear for the audience just by walking down a hallway and looking over her shoulder".Strickland's next project was another horror picture, The Grudge. In director Takashi Shimizu's remake of his own Japanese blockbuster Ju-on: The Grudge (2003), Strickland played (in a role originally filled by Misaki Ito) an American businesswoman in Japan whose brother (William Mapother), sister-in-law (Clea DuVall) and mother (Grace Zabriskie) emigrate from the United States. Strickland clinched the role through a casting session with producer Sam Raimi, who picked her based on her work in footage for the then-unreleased Anacondas, and her willingness to work away from home for extended periods of time. The Grudge was an instant box office hit and quickly became one of the most profitable films of the year, but reviews were lukewarm. The Charlotte Observer wrote the "the cast is drab and lifeless", and earned "nothing but demerits".[14] In contrast, The Ithacan said the cast "holds its own" in the film, describing Strickland and her co-stars as "sympathetic and relatable".[15] Her presence in The Grudge and Anacondas led Phil Davies Brown to proclaim her as the new "scream queen", though Strickland dismissed this label: "If a script is well done...That is all it is really about for me. Good characters, scripts, and directors don't come around that often. So when they do, I like to go for it. The right thing is always welcome".[16]
In the fall of 2004, Strickland embarked on what she described as "the craziest job I've ever had":[1] the role of Robin in the Farrelly brothers film Fever Pitch, a baseball-themed romantic comedy with Drew Barrymore and Jimmy Fallon (Strickland's co-star from Anything Else). The film opened in 2005 and was met with a mixed critical response, but Strickland herself received praise for her abilities as a comedic actress. Critic Jamie Kelwick said that Strickland and her co-stars, Ione Skye and Marissa Jaret Winokur, gave "good performances"[17] as the best friends of Lindsey (Barrymore). Ron Henriques concurred, describing Strickland as "great support" to Barrymore,[18] and MSNBC's John Hartl said Strickland and JoBeth Williams "sometimes rescue [the picture] from its plodding moments".[19] The film raised Strickland's profile further still, though it was not a major hit at the box office.
In early 2005, Strickland was cast in the pilot episode for the fact-based television series Laws of Chance for ABC. It was based on the career of Kelly Siegler, an assistant district attorney based in Houston, Texas. Strickland, whose co-stars in the pilot included Frances Fisher and Bruce McGill, said that she was "really excited to have the opportunity to portray this phenomenal lady",[1] but the series was dropped from development a few months later. Strickland's next film role is as laid-off stripminer Jason Patric's love interest in Walker Payne, an independently-financed drama set in the 1950s that completed filming in July 2005. In late 2005, Strickland joined the cast of The Flock, a crime drama starring Richard Gere, Claire Danes and singer Avril Lavigne about a federal agent who is assigned to track down a missing girl and a paroled sex offender.

--------------------------------------------------------------------------------
ผลงานแสดงที่ผ่านมา

The Grudge(2004) ...ซูซาน

Anacondas:The Hunt for the Blood Orchid(2004) ...แซม โรเจอร์

Anything Else(2004) ...บรู๊ค